Your wedding day is guaranteed to be the  day when all eyes will be on you. And who doesn't want to look like the most beautiful bride ever! In this article i'll be going over things you should think about to make sure your wedding looks on film like you saw it in your head.
LET'S START WITH YOUR WEDDING DRESS:
Remember when the world was going crazy over the issue of the white and gold dress?  Or was it black and blue?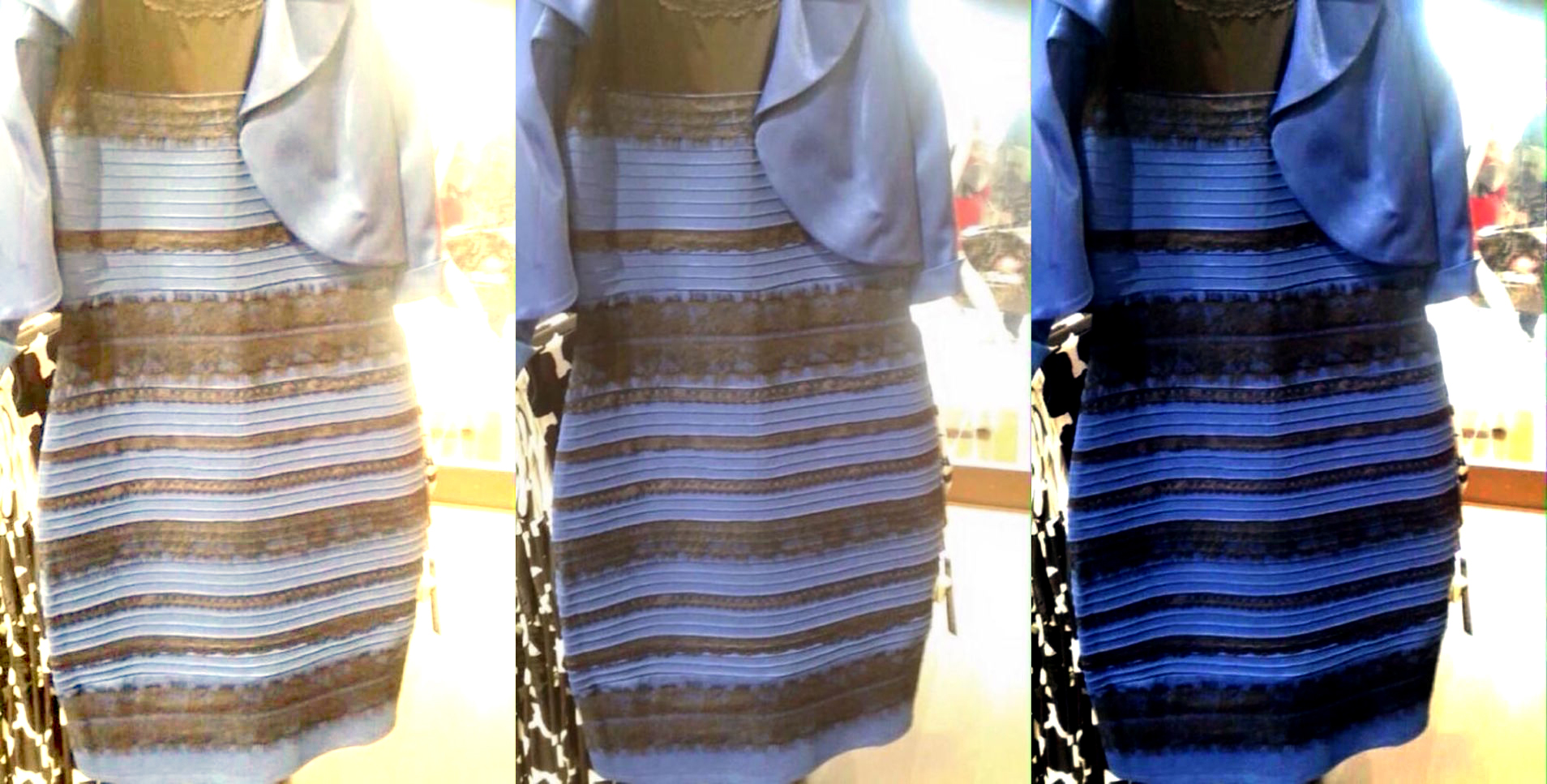 How did you see your wedding dress in the store?  Did the lighting enhance the details.  Will the same quality of light be at your wedding location? Will your wedding cinematographer properly white balance the camera?  There is a chance that hiring someone that doesn't know what they are doing could turn you white wedding dress blue. Let's talk about a few tips for picking out the wedding dress.  We can come back to the cinematography and how your wedding is remembered a little late.
Don't order your dress online.
You may think you will  save money by ordering your dress online. but that's a huge mistake.  First, you haven't seen the dress in person.  Secondly, you have tried the dress on. The dress could get to you and totally not be what you expected or not fit at all. You'll end up being stuck payinf a ridiculous price for alterations that will make the gown cost more than it would have in the local bridal store.
Don't have champagne taste on a beer budget.
Trying on a Vera Wang dress for fun isn't a good idea. You fall in love with that dress and end up going into debt trying to get that dress or being let down by countless other dresses. Don't try on wedding dresses that you cannot afford." You're better off zeroing in on your realistic price point so you can spend more time editing down the amazing options you can actually buy. Also, keep in mind that you'll need to factor in the cost of alterations, taxes and shipping fees, plus your veil, shoes, lingerie and jewelry, which can add up to $500 or more altogether.
Don't take an army to your fitting.
Only you know when your dress is really your dress.  Having to many opinions may cloud your judgement and make it more stressful for you to pick your dress and enjoy that journey.  Limit the amount of people you take to a fitting.
Buy a dress that fits now
Even if you're planning on dropping 15 pounds before your wedding, your body type isn't going to completely change. It's a lot easier and less expensive to take a gown in than to try and make a too-small dress work.
Bring Your Accessories
While most places will have shoes and a slip on hand for you to try on with your gown, you should still come prepared with a nude bra and underwear for the fittings. Also bring shoes with a similar height as what you plan on wearing at the wedding, so you can see how the dress falls with your heels. And try on your other day-of accessories (if you have them), like your veil or cover-up, to get an idea of how your whole look will come together.
Now that we've covered things you should be thinking about when your looking at wedding dresses, let's talk about the rest of your look.
YOUR OVERALL LOOK:
1. Trials and Error before your day. (Practice makes perfect)
There are a million details that you and your wedding planner have to deal with.  Don't miss any opportunites to check things before your big day.  Everything from the obvious like trying on wedding dresses and cake testing, to trial runs of your make-up with pictures and video of how it looks. Trials are always a good idea and help set expectations for your day. You really don't want to leave these things for the chance.
2. Let's Talk Make-Up
Do you have  uneven skin-tone or an acne problems? If that's the case, don't cake up your face with foundation. Too much foundation will lead to it cracking after a point or melting due to sweat or crying. You want to remember your wedding as being a day that felt authentic and genuine.  That will reflect in your video and pictures. Using your personal make-up base would be a smart move.
3. Be selective with Jewelry
Jewellery adds a lot to the look of the bride, but too much jewelery will take away the focus from you face, which is the most important feature in telling your story. If your neck pieces are elaborate, go with small earrings, or vice-versa. If you must wear two neckpieces, make sure they both aren't huge and spread out. Instead, layer them.
4. Go for lighter Lips
Leave the dark lip look for another day. We suggest you go for the soft pinks, peaches, or reds. Those wine-coloured lips may not be the correct choice for the bridal get-up. And it'll show up even more bold in the photographs!
5. Don't get heavy lashes
Wearing fake lashes can add to your made up face, but be wise while choosing those. Obviously fake lashes won't look good for your close up shots. Remember every little detail matters. Go for the right quality of lashes, if at all.
6. Glamour Over Glitter
Glitter is one of those things that people either absolutely love or completely hate. While many makeup artists may suggest you brush on some glitter on your eyelids and cheeks, do not get carried away. Fall somewhere in the middle of that love/hate relationship. Take my word for it.
7. Don't go for really big hair
Super-big hair looks great if i'm casting a 80s and 90s music video, but that style isn't in right now. Plus, the groom would love to be seen in the reverse shots and big hair can potentially cover that angle. You can definitely get a dramatic hairdo, after all, it's your day, but don't get too experimental we say.
8. Wear manageable sized High Heels
Go for medium-sized heels.  As it is, your outfit and jewellery will be difficult to manage. High heels will leave you feeling nothing but discomfort at your wedding. Pick footwear that's comfortable (with a cushioned sole) and has a medium-sized heel.
9. Have a designated touch-up person
Have a person with a little pouch with make-up essentials will guarantee you are always camera ready. Give that responsibility to your maid of honor, sister, or any reliable friend. That pouch should have things like your lipstick , some loose compact powder to dab the excess oil or any smudged eye make-up, and some safety pins and bobby pins for any outfit issues or hair tacking,
10. Everything shouldn't be the same color
Contrast is good! That's just a good design tip. Therefore, your  jewellery, eye shadow and shoes do not have to be the exact same color.  Silver-gold shoes go with almost all bridal outfits.
So you look fantastic on your day, what about your venue?
WHAT YOU SHOULD BE THINKING ABOUT FOR YOUR WEDDING LOCATION:
Estimate how many people you'd like to invite to your big day.  — it's easier to add guests than to deduct.
"Check out wedding planners' and photographers/cinematographers' blogs to see real wedding photos of venues you're interested in visiting.
Choose your wedding date.
Your date isn't officially reserved until you sign your contract and, in most cases, make a deposit. 
The venue will play a huge role in shaping the ambiance for your wedding, so it's important to have a vision of what you want to portray for your big day.
Pick your colors or theme after choosing your venue.
A venue with an abundance of natural landscape, such as a vineyard or beachfront resort, provides a stunning backdrop while reducing how much you'll need to spend on décor details.
Use your venue to tell your love story.
Pay special attention to the lighting.
Since weather can be unpredictable, it's crucial to have a contingency plan for an outdoor wedding.
Make sure when you are looking for potential venues that you clearly understand what's included and what isn't.