Over the last 7 years, I've done quite a few film races.  Each film race is different and may require different criteria. Most give a prop, character, and/or a line of dialogue to keep filmmakers from filming pre-made scripts. Film races could be anywhere between 24 hours and 2 weeks.  Any longer than that and I would consider it a film competition vs a film race.
One of the reasons for this post is because the 48 hour film project in Dallas starts tonight and I will be participating in that.  I'm looking forward to learning a lot and having fun.  Before I show a few examples of film races I've worked on in the past, I'd like to list the pros and cons to participating in film races.
PROS:
View your work on the big screen
Network with other filmmakers
Dealing with time management / deadlines and working under pressure
CONS
Creates stressful work environment
Haste can lead to injuries are broken equipment
I've just come to a point in my career where I've learned to work as hard as I can on film races, be proud of the work, and move on.  I used to beat myself up about things I could have changed or why I may have not placed in an award.  I always like to think of it as stepping stones to your next best project.  Things that i've learned on film race sets were things i've used on my feature film sets. Many professionals say that film races are a waste of time and you can't create good content in that short of a period. I think times are changing.  Technology makes it a lot easier for filmmakers to create stunning work in a fairly short amount of time with the right planning.  The perfect example of creating stunning work in a short amount of time is Alex Buono.  He is the DP for Saturday Night Live and when he's working on that show, he's completing a 48 hour film project every weekend.  I've had the privilege to go to his workshop in 2013.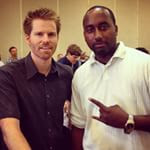 He's doing another workshop and I look forward to catching up with him again in the upcoming weeks.  Here is a link to register to his tour: (The tour ends late September 2015)
http://www.vs2.mzed.com/reserve-now
Here is some work from previous film races i've filmed: