When I first started, I thought "what's the big deal about cine lenses?"  Why can't I just use photo lenses that I already had access to.  While I could just use photo lenses and they would work, cine lenses makes the job much easier because of key features. Before we get into the features of cine lenses, I want to note  the most common lens mounts you'll find: PL, EF, F, MFT, and E.
Arri = PL Mount
Canon = EF Mount
Nikon = F Mount
Micro Four Thirds = MFT Mount
Sony = E Mount
Here is a table to help you navigate your search for lenses:
Feature
Low-end photo lens
Professional Photo Lens
Cine lens
Weather sealing
Maybe
Most of the time
Always
Solid, rugged construction to ensure performance across demanding situations, including rental knocks
Unlikely
Always
Always
Protruding front or back element/barrel when focusing or zooming
Almost always
Sometimes
Never
Distinctive outer design and standard housing
Hardly
Most of the time
Always
Consistent physical lengths
Hardly
Hardly
Always
Easy to service?
No, especially due to image stabilization and 'silent' motors, AF, etc.
Yes
An effort to keep lenses around the same weight
No
No
Always
Made for extreme weather
Never
Sometimes
Always
Let's focus more on cine lenses (see what I did there)
Let's say you are using a 85mm lens and then changed to a 35mm and then a 50mm with a photo lens. Will all three lenses look the same? Probably not. Cine lenses are designed to match, regardless of the focal length, exposure, weather, etc. In fact, you could say that, except for the focal length, a cine lens prime kit has a consistent look across the board. If you are still having questions about what lens you should use, check out this blog a wrote a while back.
Zeiss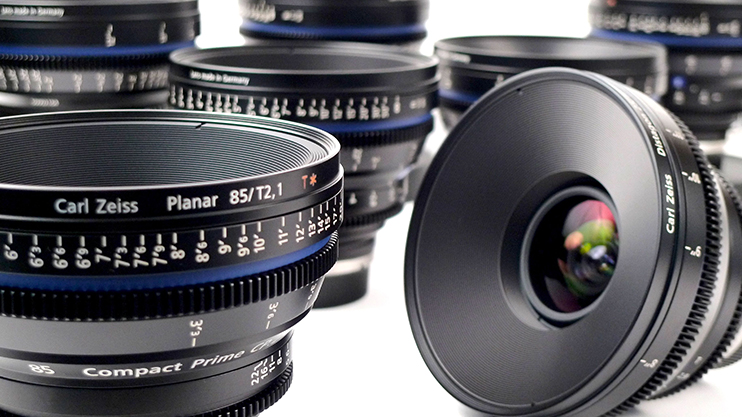 While the Master Prime series is an amazing lens set, it isn't very cost effective for independent filmmakers. Knowing this, Zeiss created a line of primes called the Compact Primes aka CP.2. They are available in different mounts: PL, EF, F, MFT, and E.
Schneider Cine-Xenar III
German manufacturer Schneider Optics, since its inception in 1913, has been an innovator in lens design for film professionals. While they usually deal in large format lenses, they offer independent filmmakers a cheaper cinema lens solution with the Cine-Xenar series of lenses.
Here is a video demo of the Cine-Xenar III series lenses in action from Schneider.
Cooke Mini S4
Cooke Optics has the high-end S4 line, but they've also developed a more cost-effective choice for independent filmmakers. Taking the design of the S4, they have crafted the Mini S4, which offers the resolution and optical quality comparable to the standard S4.
Canon CN-E Primes
Canon has been considered the top camera manufacturer for independents around the world. Canon cine lenses as far as I know is rehoused canon photo lenses.  Read further down the blog to see what rehoused lenses are. Here is a video that shows off  the canon cine line of prime lenses.
Xeen
The name XEEN comes from the experience of 'scene' and 'seen.' The first letter is replaced by an 'X,' which represents infinity. Just in case you needed some film trivia in your life. Rokinon Xeen lenses are completely different from the original Rokinon cine lenses.
Rokinon Cine Lenses
Last on the list is a set of lenses that are the cheapest cine lenses you will find. Rokinon's lenses are basically the same as of Samyang and Bower. Rokinon lenses are cheaply made and because of that, they feel cheap.  I still love my 14mm Rokinon Cine lens though.
Newer Cine lenses on the market.
Back in september 2016 Sigma announced a set of cine lenses.  This video will explain the lenses much better than I could:
Tokina Cinemat ATX lenses look very interesting.  The 11-16 photo lens is pretty popular amongst run and gun and event shooters. These lenses maybe a great alternative as well.
Let's talk about rehoused photo lenses.
The process of making a lens a re-housed lens means that you take a photo lens and modify it to have a cine-lens feel.  Certain features that are modified are de-clicking the aperture, adding focus gears for a follow focus, and sometimes increasing the diameter of the focus ring. A great company that has been doing this for a long is Duclos Lenses.
There is a great vintage lens shootout that you should check out if you haven't seen it already.  It was produced by Sharegrid and Duclos lenses.
What are your favorite cine lenses?  Have you rehoused any photo lenses?  Want to share it with the community? Let me know. Join the Capturing Light Facebook community: https://www.facebook.com/groups/capturinglightcommunity/.